FOREVER HOME NEEDED FOR PRACTICALLY PERFECT IN EVERY WAY POPPY
Poppy's Twilight has been at the RGOA for far too long – so many people must have passed up on what must be one of the very best Greys out there, just because she has a little bit of fur missing from her derriere. When you get to meet this gentle, relaxed and affectionate girl, you will see that the following statement from her foster family is very true.
Poppy is the sixth greyhound we have looked after at our home, and we can honestly say that the dogs just keep on getting better. Poppy is an absolute joy in all situations; in the house, on walks, in the car, and even in when she has a bath/shower. Her most apparent qualities are that she is particularly gentle, quiet, clean and relaxed. She walks beautifully right next to you on the lead, has never stalled and does not pull at all (quite unlike the other Greys we've cared for).
She doesn't seem at all interested in other cats ( could be cat workable) and dogs when out walking, simply following our lead of walking past them without event. She does like balls and enjoys playing with them in the garden. Poppy has never shown any aggression at all, does not jump up and has not damaged anything inside or outside our home, toys, books, shoes, furniture etc.Poppy settled in instantly, roaching on her first day with us and quickly bonding with the whole family, showing the same respect to our children (14-year-olds) as she does with us adults. Adorably, she chatters her teeth at any affection passed her way.
She is the perfect companion, liking nothing more than cuddling up to anyone that needs company on the sofa. She favours company, but is also fine being left home alone when we have needed to go to work. She likes to sleep on her bed at the foot of our bed (upstairs) and be close to one of her pack. During Poppy's short foster time with us, the fur on her hind legs is noticeably growing back. We know through experience that this can take a little while, but do not let this detract from what a perfect Grey she really is – after a short time with her, you'll not even notice her cute little patches. It has been the biggest pleasure introducing home life to this gentle beauty. We know that she will make the perfect addition to her forever home.
If you think you could give this beauty her forever home then please contact the RGOA kennels on 01277 373691 between 10 & 1 7 days a week.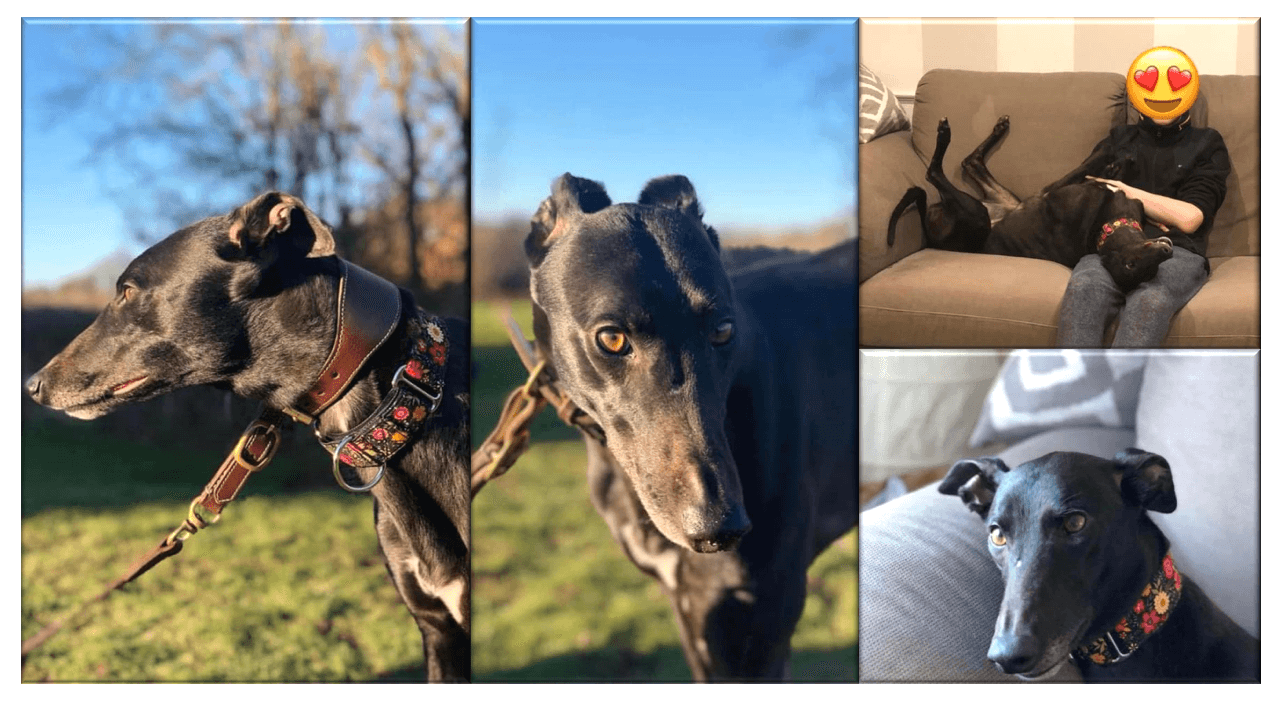 💖 The Journey Doesn't Stop When The Racing Does 💖